Demographic changes could bring success for Democrats and Stacey Abrams – and counter alleged voter suppression against minorities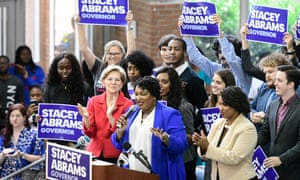 A "great reverse migration" of African Americans to the US south from the north could turn historically Republican parts of Georgia's state capital, Atlanta, from red to Democrat blue as early as next month's midterms, experts say.
William Frey, demographer and senior fellow at the Brookings Institution, said a key to this trajectory is the burgeoning Gwinnett County on the outskirts of Atlanta, where many black people have moved in recent years.
Gwinnett is a being closely scrutinised in Georgia's extremely tight gubernatorial battle, fought between Stacey Abrams, a Democrat hoping to be the country's first female African American governor, and Republican Brian Kemp, who has denied accusations of voter suppression impacting minorities.
"[The county's] demography has changed so dramatically in the last 15 years," said Frey, explaining that significant numbers of African-Americans left the south in the 1970s but are now returning.
Gwinnett is Georgia's second-largest county; with more than 900,000 residents it is just behind the city of Atlanta's own staunchly Democrat Fulton County. But Gwinnett has changed from what was a majority white population in 2000 to majority black in 2017, said Frey, who authored a recent study on the changing demographics of the south.
There has also been an increase in Asian and Hispanic populations in the county, but "the black population is going to be the engine of the changes," he said.
African Americans vote "very, very highly for Democrats", Frey said, "especially this year in the gubernatorial election with an African American woman running for governor."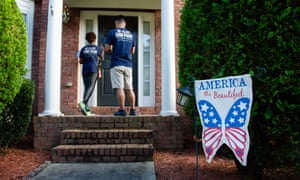 According to a joint Reuters/Ipsos poll last week, Abrams and Kemp are neck and neck, with the former at 46% and the latter at 47%. Another joint poll from local media outlets a week earlier showed the race virtually deadlocked.
Not only is Kemp the Republican candidate for governor, he is also Georgia's secretary of state – putting him in charge of voter registration and elections.
On Friday, Greg Palast, a journalist and the director of the Palast Investigative Fund alleged that Kemp improperly purged more than 340,000 voters from the state's registration rolls. Palast, who filed a lawsuit seeking documents, said the voters had been purged for moving homes, but had not in fact changed address.
It's the latest allegation against Kemp of suppressing voters, all of which he has denied.
Kemp has also faced criticism over the "exact match" policy. This is when a voter's application has to match – without an errant dash, space, hyphen or period, for example – the information listed in social security or driver's license databases.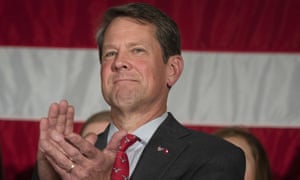 Supporters of the program, like Kemp, say it protects the electoral process. Many others disagree, including a coalition of civil rights groups whose lawsuit claims that "it disproportionately and negatively impact[s] the ability of voting-eligible African American, Latino and Asian American applicants to register to vote."
In a statement on the secretary of state's website, Kemp denied the allegations of voter suppression, calling them "another frivolous lawsuit from liberal activist groups".
There is further concern over the high numbers of rejected absentee ballots, specifically in Gwinnett County. According to voting data on the secretary of state's website, more than 520,000 voters have sent in ballots, of which more than 33,000 – around 6% – are from Gwinnett County.
Michael McDonald, an associate professor at the University of Florida who specializes in election data analysis, said Gwinnett county is responsible for approximately 40% of all rejections in the state. They belong "disproportionately to persons of color, specifically African Americans and Asian Americans," he said.
'Every vote counts'
Sam Park is out pounding the well-maintained lawns of Lawrenceville in Gwinnett County. The Democratic Party's incumbent state house representative for District 101 is one of many canvassers in Gwinnett who are particularly keen to get out the vote among the growing population of young non-white voters. Part of the new wave of migration includes well-educated and diverse millennials; in Atlanta, African American millennials are the largest minority group. In his 2018 report The Millennial Generation, Frey said: "In Atlanta, young middle-age blacks would out number whites for the first time in 2025."
Park, a 33-year-old Korean American,
is accompanied by his deputy field director, Dia Parker, a 24-year-old African-American college student. She shakes hands with a Bangladeshi American entrepreneur, Sam Gillani, who walks out of his garage carrying his 12-year-old dog Laila Ali.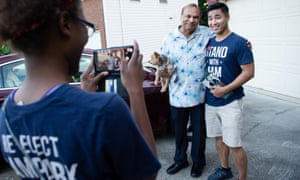 For the next hour, Park spoke with two African American men and a Cambodian American woman. The woman spoke little English, so Park made a note on an app on his phone to return with an interpreter. The two men promised their votes to Park.
Whether there will be enough people like them for Georgia to swing to the Democrats is the key question. Frey thinks it could. "One of the reasons is because of the increasing diversity in the Atlanta area," he said, adding that the "swinginess" comes from metro suburban areas such as Gwinnett.