Pasta is not as fashionable as it was a couple of decades ago. The rise of obesity and overeating, as well as a growing awareness of the benefits of high-fibre foods and complex carbohydrates, has meant simple dried pasta has taken a dive in popularity.
To try and stem the tide of people swapping the carb-heavy dish for healthier alternatives there have been various attempts at giving pasta a wholesome makeover. Last month a study claimed that eating pasta could, in fact, aid weight loss. Reading the small print, however, it became clear that this is reliant on a calorie-controlled eating plan – small portions, in other words, which isn't necessarily what happens in practice. Portion sizes in pasta recipes are often 100g, whereas a more health-conscious serving should be nearer 55-75g.
But the newest kid on the pasta block, sparking interest in various shapes and sizes, is made with legume flour. These pastas, made from pulses such as red lentils, split peas, chickpeas or black beans are high in protein and fibre and are reeling the health-conscious crowd back in.
A wide range of health benefits is claimed: legume pastas contain four times the amount of fibre found in traditional pasta (which is made from durum wheat flour mixed with water or eggs) and about one third less carbohydrates. Legume-flour pastas can also be counted as at least one of your recommended five vegetables a day, while the amino acids found in some legumes aid cell repair and muscle and tissue growth.
Here we have a product that ticks a lot of on-trend boxes – the most salient of which is the high-protein box. A low-carbohydrate diet, when combined with high-protein foods, is considered be a good way to maintain a healthy weight and BMI, among other health benefits.
The increasing popularity of pastas made with legume flour might also be attributed to the number of people choosing to eat "free-from" foods. In 2017, industry magazine the Grocer reported that sales of free-from goods had risen more than 40% in a year, to a market value of £806m. The appeal of free-from options extends well beyond those with intolerances and allergies to substances such as wheat, and is particularly prevalent among 20-40 year olds as part of lifestyle choices that take account of health and environmental concerns. According to research by Mintel, one in four people are choosing to be free from certain ingredients, but only one in five of them do so on medical grounds.
Another big driver for the sector is is the vogue for plant-based eating. This is the ever-growing trend of trying to live on a diet based on vegetables, tubers, whole grains, legumes, and fruit, while excluding or minimising dairy products, eggs and meat, as well as cutting out highly processed foods. There has also been a rise in vegan-based media, from dedicated cookery columns and shows to films and documentaries questioning the sustainability of our diets.
Gone are the days when the only alternative to traditional pasta was the rather worthy and sometimes heavy wholewheat version. New products are springing up fast and furiously, breaking out of health food stores and on to mainstream supermarket shelves. Sainsbury's have introduced three alternative pasta lines in the past six months, with sales of legume-based varieties up 9% over the past three months. Vegetables have long been masquerading as pasta in the form of courgetti and butternut squash "lasagne" sheets – to name but a few – but pre-made versions have a relatively short shelf life. So are legume-based dried pastas the answer?
Plant-based proteins have been found to be particularly beneficial in the fight against cardiovascular disease – and it is worth noting that, although the protein count is very high in these pastas, they are not necessarily "low calorie". Instead, they provide a form of slow-release energy.
But how do they taste? And can they ever provide a satisfactory alternative to the stodgy quick dish still favoured as an economical, easy comfort food? We put them to the test.
Red lentil penne
Sainsbury's own brand £2.95/500g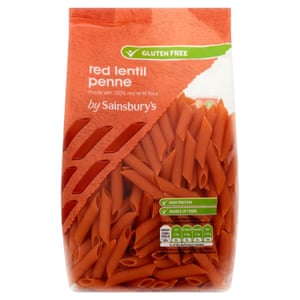 This pasta stands out on the shelf with its bright orange-red glow but, once cooked (for 7-9 minutes), the colour fades to a duller orange, closer to traditional egg pasta colour. It is relatively odourless – so a good vehicle for sauce – and carries other flavours well. The texture is a little more toothsome than regular pasta, but it has a nice al dente quality. The packet suggests a 200g serving, which would be difficult to manage in my opinion – but which bodes well in terms of portion control, at least. On the plus side, if you could manage it, a full serving contains 50% of the average recommended daily allowance of protein. Probably very good before a marathon. 6/10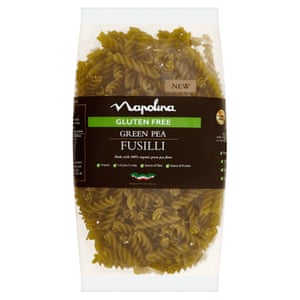 Green pea fusilli
Napolina £1.75/250g
Small, dark-green twists, these look quite exotic. Once cooked (7-9 minutes), they look more like spinach-infused pasta. There is quite a strong smell after cooking and the same taste on the palate just towards the end – a slight hint of marrowfat peas, which might make this pasta harder to pair with more delicate sauces. The texture is also quite floury but lighter than traditional pastas and not unpleasant. While these are not as heavy as the red lentil pasta, it would be hard to eat a large portion, unless you were a particular fan of that underlying mushy pea flavour. This fusilli is also higher in protein than the penne, with about 50% of the protein RDA in 100g. 5/10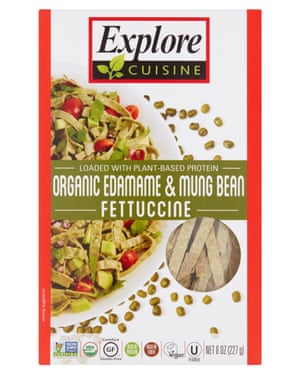 Edamame and mung bean fettuccine
Explore cuisine £3.35/200g
This pasta does not have the length one might hope for with fettuccine, comprising relatively short and slightly reptilian (they have a ridgy appearance) flat pieces. There is also a mild chlorophyl smell on opening the packet – a whiff of delicious green veg. Once cooked (5-7 minutes), however, they look more fettucine-esque and have a pretty pale green colour, with a slightly nutty but not unpleasant or overwhelming flavour. Definitely the easiest to eat and really quite enjoyable. A high protein count – again about 50% of RDA – in this case the suggested 100g serving is definitely manageable. 7/10
Chickpea penne
La Bio Idea £2.59/200g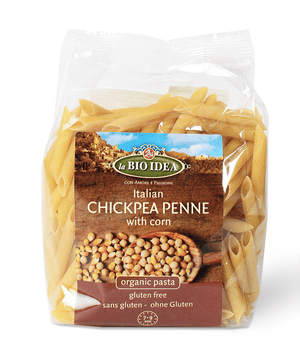 A good, golden, authentic dry pasta colour and no smell when the packet is opened. This pasta has the longest cooking time – 10 minutes – and appears to be the most stolid. At first it has no discernible odour or taste, until a slightly bitter chickpea flour flavour kicks in. That said, it's not overpowering or unpleasant, if you like gram flour. In terms of protein count, however, the chickpea penne has the lowest of all the legume pastas sampled. 4/10
Barenaked spaghetti
£1.50/380g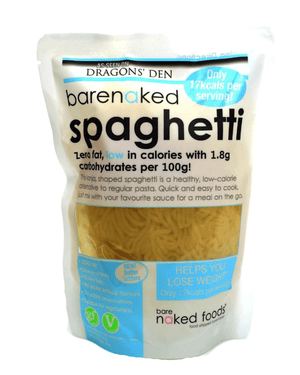 Another non-traditional pasta cropping up on supermarket shelves, this is made not from legumes, but konjac flour (which does not rival beans, peas or lentils for nutritional value). These are fried in a pan, rather than boiled in water, and take just three minutes to cook. This spaghetti is sold in the dried pasta aisle, but arrives vac-packed in liquid and a somewhat chemical smell emanates on opening the pouch. The texture is interesting – almost crunchy, with a hint of the feel of seaweed or jellyfish. Unlike the legume pastas, this is very lightweight and can feel insubstantial – not to mention a bit joyless. 6/10
Source:https://www.theguardian.com/lifeandstyle/2018/apr/26/lentil-mung-bean-and-carrot-pastas-are-suddenly-popular-but-do-they-taste-any-good